Are you trying to go at it alone?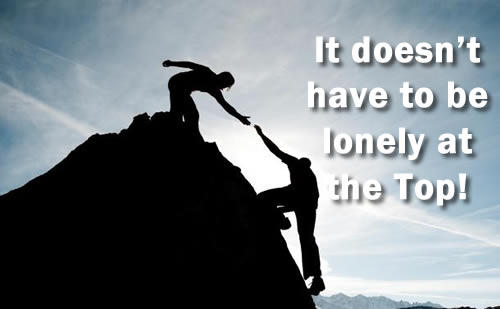 Have you ever felt like you're going at it alone in your life or business? I think it's safe to say we probably all have fallen into that mindset at one time in our lives. But what made those successful leaders figure out if you're lonely at the top, you're doing it wrong?
This article is going a different than most of my articles because I'm going to be sharing a little of my faith with you. So if that bothers you, then you can skip it. Just warning you.
I promise you as a leader, whether it's self leadership, which I have learned is often the toughest person to lead or if you're a business or organizational leader; if you find yourself lonely, it's not a positional issue, it's a personality issue.
You're probably wondering, what does being lonely at the top have anything doing with leadership? It has everything do with it. I've heard it best answered, if you're a leader and no one is following you, then you're just taking a walk. Although humorous, think about it. Take a look around and ask yourself, who am I following and who is following me? I've always believed, you can't be a great leader if you don't know how to follow or even if you're not following someone.
I recently had a close friend of mine remind me of how dangerous and lonely that pit can be. As a man of faith, I know all too well the tricks of the enemy and what sin can lead you to believe about yourself. The trick is that's exactly where he wants you and he wants you to believe their is no escaping…no hope of change.
In the book of (1 Peter 5:8-10), Peter was writing to God's chosen people, here he tells us to: "Be sober-minded and alert. Your adversary the devil prowls around like a roaring lion, seeking someone to devour. Resist him, standing firm in your faith and in the knowledge that your brothers throughout the world are undergoing the same kinds of suffering. And after you have suffered for a little while, the God of all grace, who has called you to His eternal glory in Christ, will Himself restore you, secure you, strengthen you, and establish you".
There is a warning there, did you get it? While God wants you to live a life filled with purpose, the Devil wants the opposite for you. He doesn't want you to think or care about your thoughts, attitude, words or actions and will trick you into believing you aren't significant and can go at this life without others, let alone without God. If he gets you to believe your life is without purpose, then you will live a life of sin, out of tune with God. But your life is so significant. God knew you before you were even born. Remember, He knows the plans He has for you, plans to prosper you and not to harm you, plans to give you hope and a future (Jeremiah 29:11).
What I've learned and love about leadership and followership is that we need those people in our personal and professional life to follow. We need fellowship for our personal lives and followership in our professional lives. Even if you're the "leader" at the top, you're successful not because of yourself, you're successful because of the people around you…your followers.
In the same aspect as a believer, I can't fall into that mindset thinking I have to do this alone or the mindset that I'm not good enough.
Think about it, what kind of a leader would leave everyone behind and take a journey alone? A selfish one. When you're connected to others, you're able to connect with them versus communicate at them hoping they received the message. Taking people to the top is what good leaders do. Lifting people to a new level is a requirement for effective leadership.
Advice for Lonely Leaders (Taken from Leadership Gold by John C. Maxwell)
If you find yourself too far from your people – either by accident or by design, then you need to change. And the great thing is, you can. There will be risks and pain, and it's not going to be easy, anything worthwhile shouldn't be easy. You may have to draw some new stakes in the ground and put up some new borders to protect you and your growth. But if you want to be the most effective leader you can be, there is no viable alternative. Here's how to get started.
1. Avoid Positional Thinking.
Leadership is relational as much as it is positional. An individual who takes a relational approach to leadership will never be lonely. Don't be afraid to build new relationships.
2. Realize the Downsides of Success and Failure.
Success can be dangerous but so can failure. Anytime you think of yourself as a success, you start to separate yourself from others you view as less successful. You begin to think, I don't need to see them, and you withdraw. Ironically, failure also leads to withdrawal, but for other reasons. If you think of yourself as a failure, you avoid others, thinking, I don't want to see them. Or I don't want them to get to know the real me or what I've done. Both extremes in thinking can create an unhealthy separation from people.
3. Understand That You Are in the People Business. 
The best leaders know that leading people requires loving them. I've never met a great leader who didn't care about people. Good leaders understand that people do not care how much you know until they know how much you care. You must like people or you will never add value to them. And if you become indifferent to people, you may be only a few steps away from manipulating them. No leader should ever do that.
4. Buy Into the Law of Significance. 
One is too small a number to achieve greatness. No accomplishment of real value has ever been achieved by a human being working alone. I challenge you to think of one. Change your thinking from people don't work for me, they work with me. Be involved in the process.
APPLICATION EXERCISES
1. Are you better at the science or art of leadership?
2. Why do you want to be at the top?
3. How big is your dream and who are going to need to help get you there?
This week's Challenge: Invite someone to lunch or coffee that you don't know or don't know very well within your organization and get to know them.
What does investing in others look like from your viewpoint? How have you brought others up as you've moved up in your business or organization? What are you learning about others or even better, what are you learning about yourself?